Family Day is here and if you can brave the cold…why not pack everybody up and get out to some of these close-by activities that are sure to bring some smiles to your family's faces!
First up in Niagara Falls (featured in video): Wizard's Golf is Canada's largest indoor glow in the dark miniature golf course located on Clifton Hill in Niagara Falls. It features 18 holes of fantasy — Wizard's, fairies, dragon's, castles and magic! Golf with the entire family in a world of wonderment. You'll find Wizards Golf near the top of Clifton Hill, beside Ripley's Believe It or Not.Call 905-358-3676 for hours of operation, ticket prices and other helpful information.
Family Fun Day at the Niagara Falls History Museum
The Niagara Falls History Museum has a special day planned on Family Day, February 16th, 2015 from 10:00 am to 5:00 pm to join "Earth Rangers" for FREE shows @ 11:00 am, 1:00 pm, 2:00 pm & 3:00 pm. This is a unique encounter with animal ambassadors that will leave you educated and inspired to help protect animals in the wild. 
Other activities include scavenger hunts, crafts, FREE family portraits and three galleries full of artifacts that explore our local history.
In Addition to "Earth Rangers", the Niagara Falls History Museum also offers:
Nature Exhibit at the Niagara Falls History Museum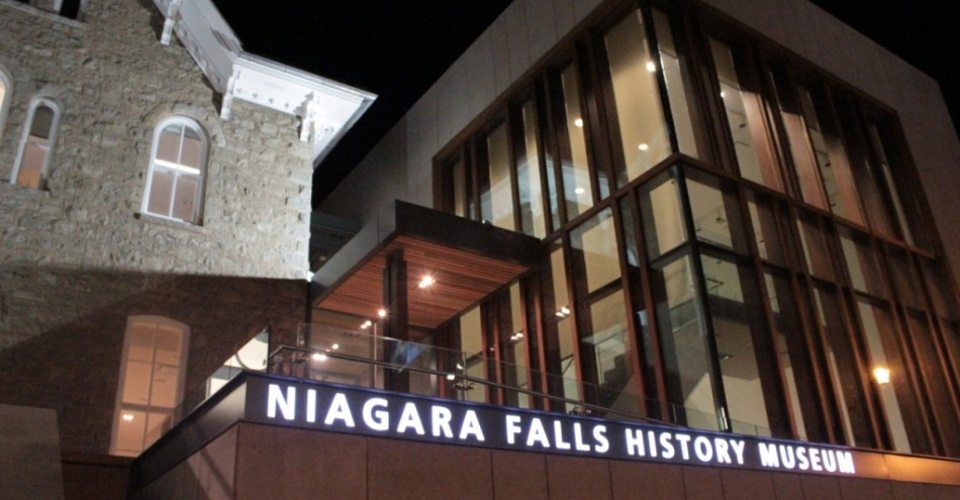 Preserving the diversity of life on earth is not only beneficial but essential to humanity. The Niagara Falls History Museum has a new exhibit entitled "Nature", in which you will learn about biodiversity, the relationships between species within food webs, and the gene pools of particular species.
Habitat destruction is the most serious threat to biodiversity, but there are others as well. Fortunately, there are people and organizations that strive to preserve or restore native habitats and species, and "Nature" encourages participation in these efforts.
This exhibition also examines the experience of owls with eleven beautiful owl specimens that examine the fascinating and less well-known aspects of owl behaviour, biology and lifestyle.
When: January 14th – April 19th, 2015
Hours: Tuesday to Sunday: 10:00 am – 5:00 pm, Thursday extended hours to 9:00 pm
For more information call 905-358-5082 or visit them online at www.niagarafallsmuseums.ca 
For more information please visit them online at www.niagarafallsmuseums.ca or call 905-358-5082. 
"Winterfest" at Heartland Forest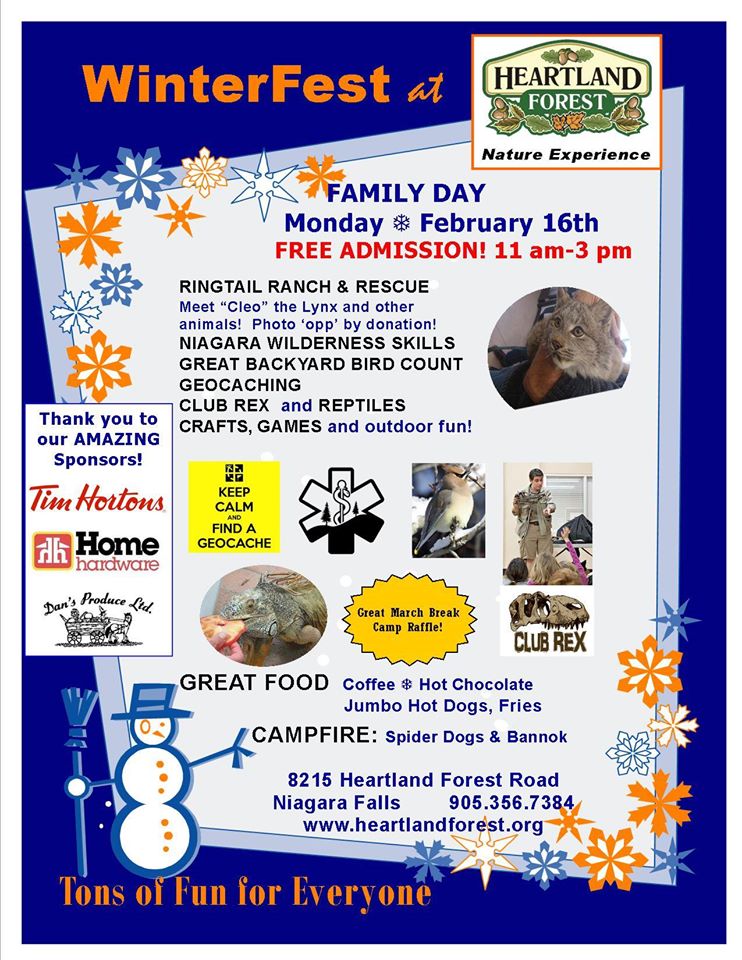 Nocturnal: Creatures of the Night Exhibit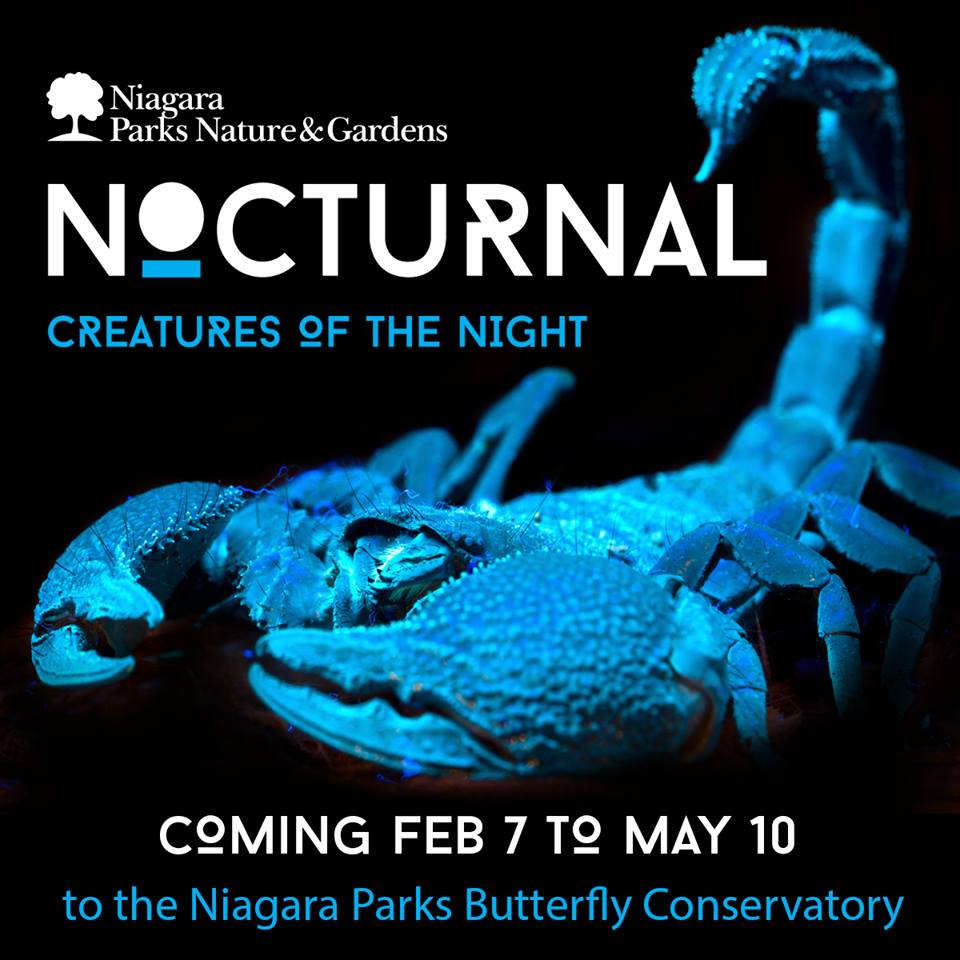 An awesome addition to the Niagara Parks Butterfly Conservatory opened on Saturday, February 7th, 2015 and runs until May 10th, 2015.
"Nocturnal: Creatures of the Night" examines a variety of nocturnal reptiles, bats, snakes, and spiders in their own natural setting, as you will step into the dark to experience these creatures during their "day".
You can simply watch from afar, or you have the option to get hands-on with their zoo experts, who will be on hand to answer all your questions in this educational exhibit.
"Nocturnal: Creatures of the Night" is included with regular admission to the Butterfly Conservatory.
Prices:
Adults: $13.95 + tax (13+)
Children: $9.10 + tax (6-12)
Ages 5 and Under are FREE 
*Parking at the Botanical Gardens is $5.00. Local residents may pay a one-time fee of $11 for an annual parking pass.
BOTTOM LINE: It's Family Day, so why not enjoy some activities together!
To receive similar updates, "Like" us on Facebook @ https://www.facebook.com/niagarabuzz.ca
Let us know what you think!