Looking for some fun things to do in Niagara Falls this weekend? There are plenty of events and activities to enjoy this weekend. Here is a list:
Friday, February 20th, 2015 – Sunday, February 22nd, 2015
Decadence
Get ready for a full day of family fun, great tastings and a culinary competition for the fifth annual "Decadence" event, which takes place on February 21st  at the Niagara College Canadian Food & Wine Institute, Niagara-on-the-Lake Campus.
Feb 21 – All day family fun (10 a.m. to 4 p.m.)
All activities are free of charge (unless stated). This is a FREE event, complete with FREE parking!
Activities:
Horse-drawn carriage rides
Birds of prey
Live ice carving demonstrations
A magician and face painting
Beer, wine, and food pairing
Chef demonstrations
Kids' Chocolate Classes ($10/kid)
Chocolate-themed manicures and hand massages ($2 donation)
Lots of sweet eats
Feb 21 – Competition Dinner (Gala) 6:00 p.m. start
The Gala is an exciting night that will showcase colleges from across the province including Algonquin, Canadore, Centennial, Fanshawe, Fleming and Humber.
Sample the array of entrées prepared by the colleges, then cast your vote (guided by celebrity judges) to decide which team is the ultimate winner.
Enjoy a reception by Junior Culinary Team Canada, then a sumptuous flow of entréescreated by the teams of competing Ontario culinary colleges, followed by an amazing array of chocolate desserts.
Throughout the night, partake in VQA icewine, table wines, and signature beers specially created for this event.
Tickets are $99.
To order, email benchmark@niagaracollege.ca
*For more information on this event please visit www.decadenceniagara.ca
Old Fort Erie – Friday Night Flicks 
The Niagara Parks is pleased to introduce select films at the historic Old Fort Erie (350 Lakeshore Road, Fort Erie, 905-871-0540), on the last two Friday nights throughout 2015 (daily during March Break). These movies will feature award-winning classics and culturally important releases, all presented in their grand and storied venue. Each month has a differing theme.
February is Black History Month, so on Friday, February 20th at 7:00 p.m. "12 Years A Slave" will be showcased for $5.00.
Premise: In the antebellum United States, Solomon Northup, a free black man from upstate New York, is abducted and sold into slavery.
Nature Exhibit at the Niagara Falls History Museum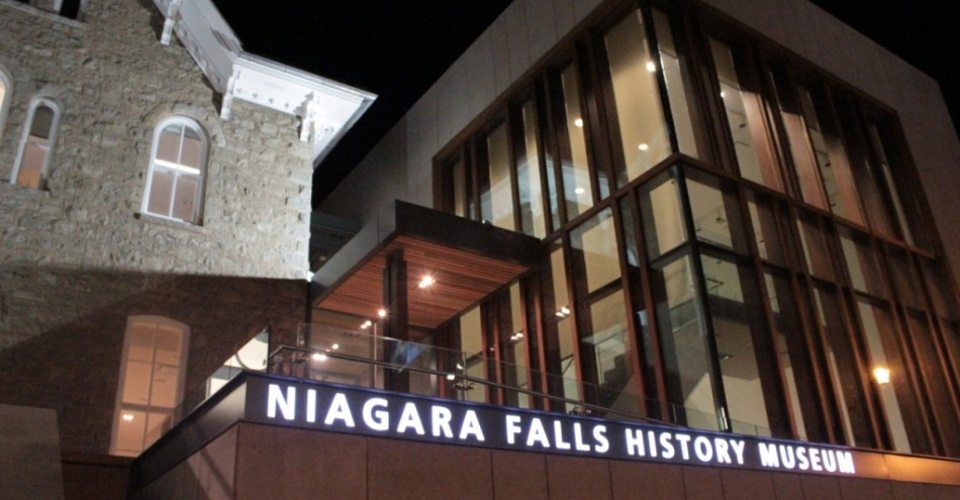 Preserving the diversity of life on earth is not only beneficial but essential to humanity. The Niagara Falls History Museum has a new exhibit entitled "Nature", in which you will learn about biodiversity, the relationships between species within food webs, and the gene pools of particular species.
Habitat destruction is the most serious threat to biodiversity, but there are others as well. Fortunately, there are people and organizations that strive to preserve or restore native habitats and species, and "Nature" encourages participation in these efforts.
This exhibition also examines the experience of owls with eleven beautiful owl specimens that examine the fascinating and less well-known aspects of owl behaviour, biology and lifestyle.
When: January 14th – April 19th, 2015
Hours: Tuesday to Sunday: 10:00 am – 5:00 pm, Thursday extended hours to 9:00 pm
For more information please visit them online at www.niagarafallsmuseums.ca or call 905-358-5082. 
Nocturnal: Creatures of the Night Exhibit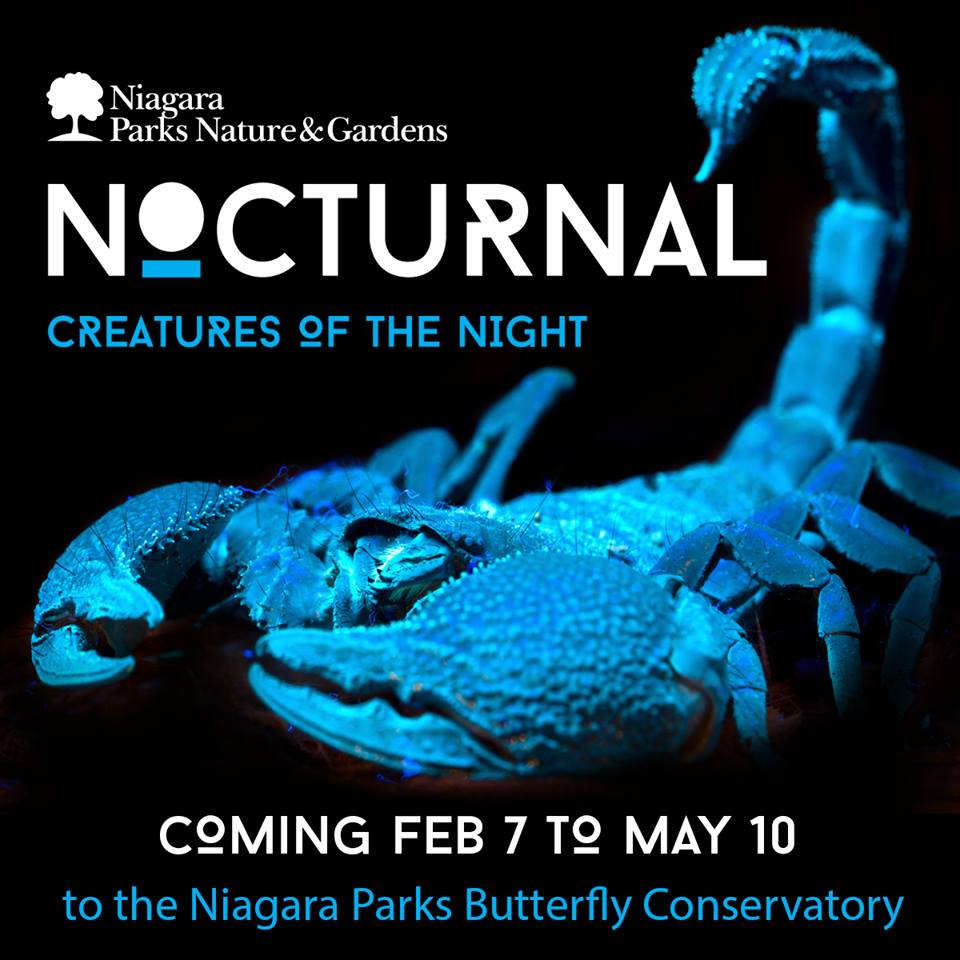 An awesome addition to the Niagara Parks Butterfly Conservatory opened on Saturday, February 7th, 2015 and runs until May 10th, 2015.
"Nocturnal: Creatures of the Night" examines a variety of nocturnal reptiles, bats, snakes, and spiders in their own natural setting, as you will step into the dark to experience these creatures during their "day".
You can simply watch from afar, or you have the option to get hands-on with their zoo experts, who will be on hand to answer all your questions in this educational exhibit.
"Nocturnal: Creatures of the Night" is included with regular admission to the Butterfly Conservatory.
Prices:
Adults: $13.95 + tax (13+)
Children: $9.10 + tax (6-12)
Ages 5 and Under are FREE 
*Parking at the Botanical Gardens is $5.00. Local residents may pay a one-time fee of $11 for an annual parking pass.
 Yuk Yuk's Stand-Up Comedy at Casino Niagara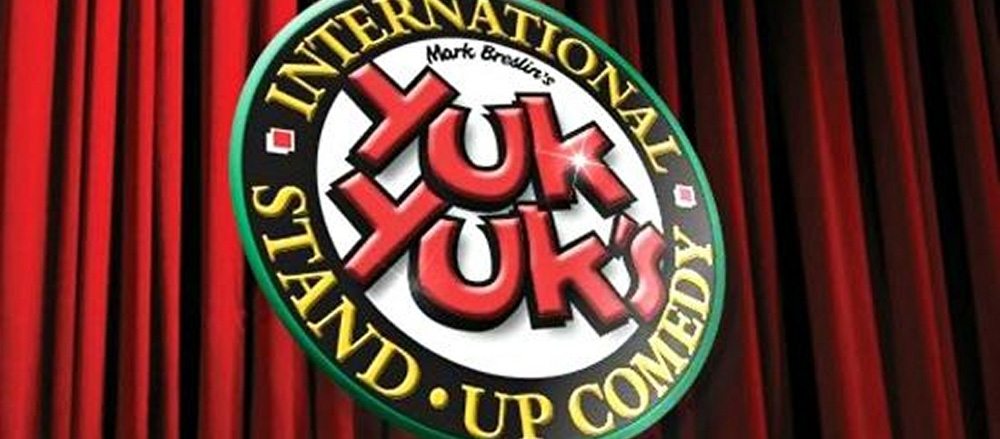 Considered one of the premier comedy dens, Yuk Yuk's Niagara showcases some of the best comedic talent, and the funniest rising stars. Here you'll be entertained with hilarious, uncensored material all night long.
On Friday, February 20th & Saturday, February 21st, 2015, Yuk Yuk's has David Berry performing on both nights.
Shows start at 9:00 pm on Friday and Saturday's at 8:00 pm & 10:30 pm.
Tickets prices: $16.19
Get your tickets at the PAC Booth in Casino Niagara or by calling 1-877-YOU-LAFF (968-5233).
To receive similar content, "Like" us on Facebook @ https://www.facebook.com/niagarabuzz.ca
Let us know what you think!