Victoria Day falls on Monday, May 18th. this year so that means long weekend and that means it's time to get out and have some fun with the family!
There is of course a TON of great things to do and here is just a list of the many offerings for you to enjoy.
But before we get straight to that …what is this holiday all about?  Well, it's a federal Canadian public holiday celebrated on the last Monday before May 25, in honour of Queen Victoria's birthday. The date is also, simultaneously, that on which the current reigning Canadian sovereign's official birthday is recognized. It is sometimes informally considered as marking the beginning of the summer season in Canada.
The holiday has been observed since before Canada was formed, originally falling on the sovereign's actual birthday, and continues to be celebrated in various fashions across the country on the fixed date. In Quebec, the same day was, since the Quiet Revolution, unofficially known as Fête de Dollard until 2003, when provincial legislation officially named the same date as Victoria Day the National Patriots' Day. It is a statutory holiday federally, as well as in six of Canada's ten provinces and three of its territories.
Ok whew….now to the fun stuff…
What Are Some of the Top Attractions to Visit During the Victoria Day Long Weekend?
The Niagara SkyWheel:
Imagine being hovered 175 feet (53 meters) in the air over Niagara Falls and capturing the most beautiful pictures of the Horseshoe and American Falls. This is exactly what you get for an inexpensive fee of $10.99 + tax for adults and $6.99 + tax for children on an attraction set apart from the rest. It stands alone as one of the most spectacular aerial views you will ever experience for miles in every direction; all while you are comfortably encased in a climate controlled gondola that provides year-round sightseeing comfort, day and night.
The Niagara SkyWheel varies from 8-12 minutes, with operating hours that extend from 9:00 am to 2:00 am on the Victoria Day weekend and then throughout the Summer (*weather permitting*). No need to worry about sun glare off the glass either as each gondola is constructed with specialty made anti-glare coating…for a perfect photo every time!
Wizard's Golf:
It is one of Clifton Hill's most talked about attractions. This is among the largest of North America's indoor glow-in-the-dark miniature golf courses that features 18-holes of challenging fun, and is showcased in a brightly coloured exhibit of Wizards, Trolls, and Dragons. Here, there's something interesting for everyone to enjoy. You'll golf among wizards, trolls, fairies, castles and dragons and get lost in a medieval story of fantasy and wonderment!
You'll find Wizard's Golf near the top of Clifton Hill, beside Ripley's Believe It or Not.
Call 905-358-3676 for hours of operation, ticket prices and other helpful information.
Whirlpool Jet Boats:
Victoria Day Weekend is the kick-off Holiday weekend of the Whirlpool Jet Boat Tours out of Niagara-on-the-Lake. Hundreds of thousands of gallons of water flow over the Falls every minute and as that water enters the narrow rock gorge, it is compressed into wild rapids. This makes for an exhilarating time when you can experience first-hand the power of the rapids in a completely safe, 40-54 passenger vessel. You must be at least 44 inches tall to ride, but there are no restrictions for seniors as long as you are in good health (free of heart, neck or back issues).
Hornblower Niagara Cruises:
April 30th, 2015 was the opening day of one of the most highly anticipated attractions to open for the season in Niagara Falls. The Hornblower Niagara Cruises is a thrilling new way to experience Canada's most spectacular wonder of the world. They will take you on the ride of your life! An intimate tour that gets you as close as possible to the breathtaking flow of water, power and mist that is the magnificent Niagara Falls. Within the Niagara Great Gorge, the catamarans will journey past the American Falls, Bridal Veil Falls and into the very heart of the famous Horseshoe Falls.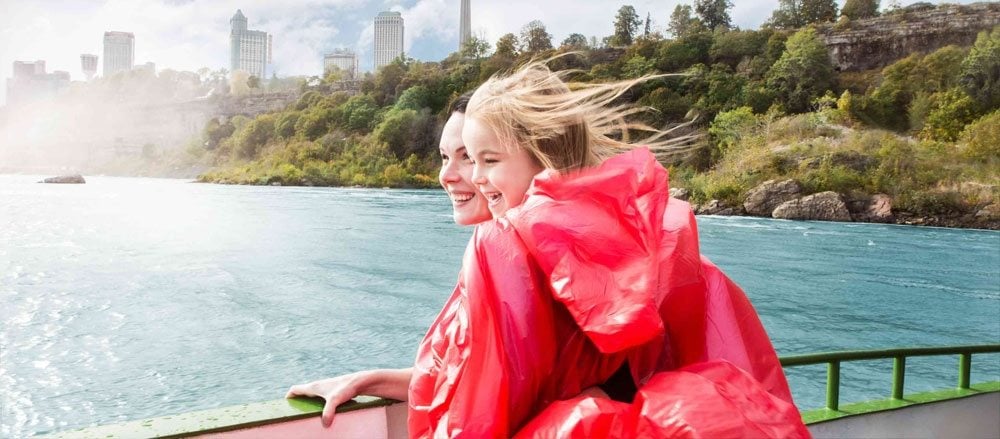 Niagara Helicopters:
With the Niagara Parks on bloom watch, what a view you will get with the Niagara Helicopter Tours! As the helicopter gently lifts off from the Victoria Avenue location, the awe-inspiring views of the Niagara Falls Region begin to appear below. Don't let any picture-taking opportunity be missed, so have your cameras out and ready to go right from the start! The helicopter holds up to 6 of your family members in a 12-minute spectacular flight over the Niagara Falls that spans 27 kilometers. There are 5 helicopters available and the wait times are usually 15 minutes max.
*Please Note: If you plan a weekend getaway to Niagara Falls on the Victoria Day weekend, your best savings option is to take advantage of the "Build-a-Package" selection when you book your stay at the Comfort Inn Clifton Hill. The Niagara Helicopter Tour is included in this fantastic package and saves you up to 44% off the retail price, among various other amazing promotions!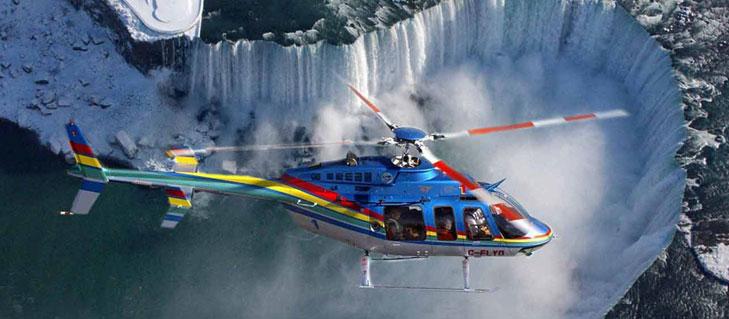 www.niagarahelicopters.ca
Outlet Collection at Niagara:
Victoria Day Weekend will also see the stampede of shoppers headed to Niagara-on-the-Lake to check out our newest shopping centre, the Outlet Collection at Niagara. It heralds a new concept among Ivanhoé Cambridge's array of shopping centre developments.  Anchored by Bass Pro Shops, Phase 1 of this open air, outlet shopping centre will feature a sophisticated architectural design in eight, single-level buildings totalling 520,000 sq ft. of retail space.  This unique property is home to 100 renown and eclectic retail brands.
49th Annual Virgil Stampede:
Here's an amazing festival to bring the whole family! The Virgil Stampede takes place on Saturday, May 16th: 9:30am – 11:00pm, Sunday, May 17th: 11:00am – 11:00pm, and Monday, May 18th: 9:30am – 11:00pm. Carnival rides, London Reptiles, face painting, Kids' Pavilion and pony rides for the children — plus many more activities for the whole family to enjoy like the Kids' Bike Safety Rodeo, and the always popular "Mud Run"! Admission is $5.00 per Adult and Children under 15 are free. Admission is completely free for everyone on Sunday, May 17!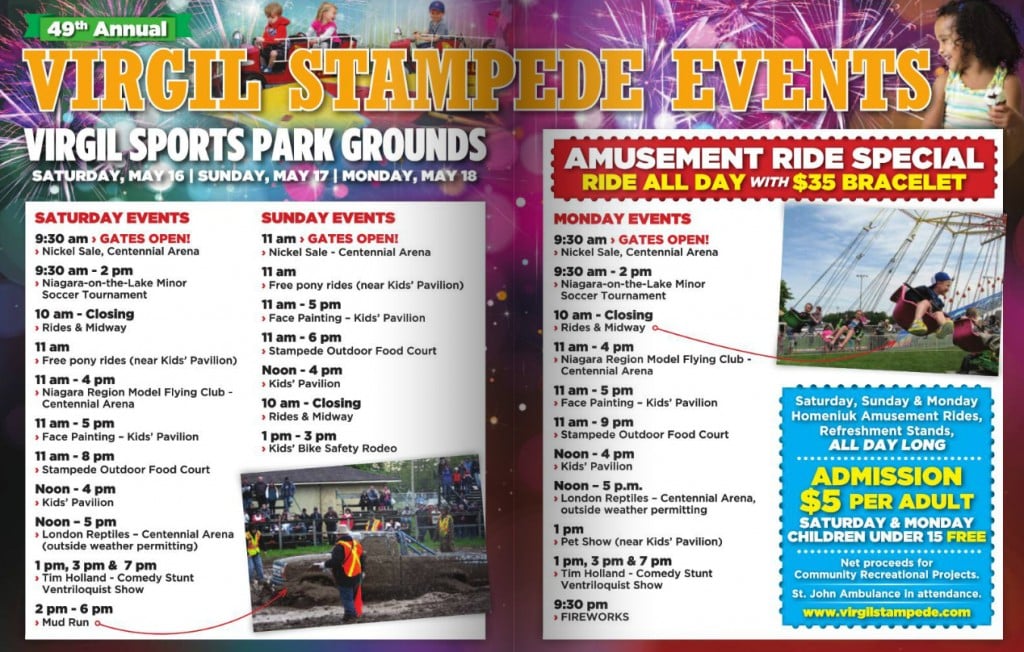 The Virgil Stampede will kick-off with the "Virgil Rocks" concert on Friday, May 15. Tickets are $12 in advance or $20 at the door (click here – until tickets are sold out). Doors open at 7:00pm and the show starts at 8:00pm. Must be 19+. The concert will take place as an all ages, licensed, indoor event at the Meridian Arena at Virgil Sports Park.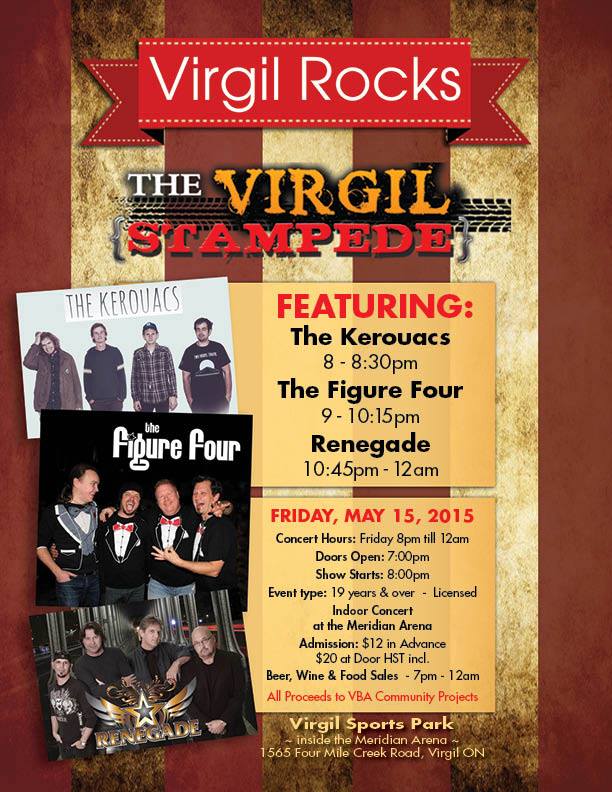 The Virgil Stampede in located at Virgil Sports Park, 1565 Four Mile Creek Road in Virgil, ON.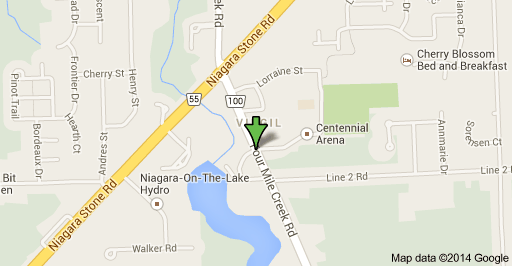 For more information: www.cliftonhill.com
To receive similar content"Like" us on Facebook @ https://www.facebook.com/niagarabuzz.ca
Let us know what you think!