Summer is coming.  So are the Festivals that we can only DREAM OF in the winter. So c'mon, off your butt…let's get out there and enjoy!  First up:
Springlicious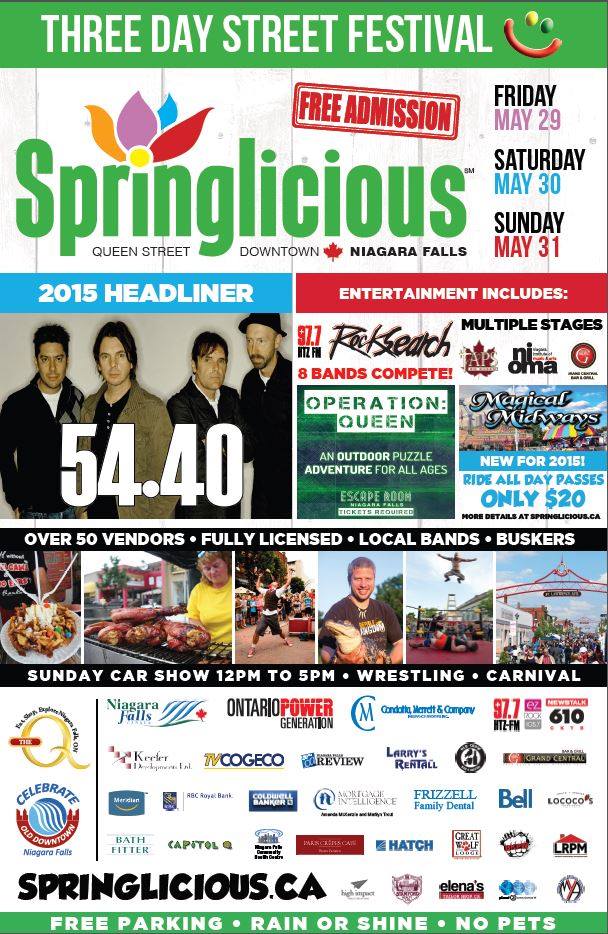 Springlicious is the festival to kick off the start of hot Summer days and nights! It has everything for the whole family to enjoy, and serves up culinary delights, beers and wines from the Niagara region, plus great family entertainment all happening on Queen Street in Downtown Niagara Falls. This year, musical Canadian icons, 54-40 will hit the stage!
Don't forget to head down to Queen Victoria Park afterwards and on every Friday and Sunday night during the Summer at 10:00pm for the Niagara Falls Fireworks shows!
For more information on Springlicious visit www.springlicious.ca
Niagara Falls Ribfest 
Popular throughout Ontario and always falling on Father's Day weekend in Niagara Falls, it is without a doubt "Ontario's number ONE Ribfest." This gets categorized as one of the best Summer Festivals in Niagara because of its award-winning ribs from competing vendors, amazing live entertainment and the ability to attract not only locals, but tourists itching to try out Canada's delicious food!
This year, the 11th Annual Niagara Falls Ribfest will be held at the Niagara Square. There will be plenty of assorted food and shopping vendors, and plenty of delicious ribs to go around, live entertainment all weekend long, 50/50 draws, a Midway for the kids, and much, much more!

June 12, 13, 14, 2015
Friday – noon to 1: 00 am
Saturday – 11 am – 1:00 am
Sunday – 11 am – 8 pm
Entertainment Line-Up:
Friday June 12
4 pm – 6 pm Cory Cruise
6:30 – 8:30 Maddhatters…
9:00 – 11:00 Vinyl Flux
Saturday, June 13
noon – 1:00 Crown's Down
1:30 – 3:30 Travelling Beer Bellies
4:00 – 6:00 Soul Jam
6:30 – 8:30 Rita Carrey – No Strings Attached
9:00 -11:00 Marty Allen and the Cadillac Cowboys
Sunday, June 14
noon – 2:00 Broken Lyre
2:30 – 4:30 Jonesy
4:30 – 5:15 Announcements – Ribber Awards, Rotary Presentations, 5 Car Early Bird Draw
5:30 – 7:30 The MudMen
For more information on the Niagara Falls Ribfest please go to www.niagarafallsribfest.com. Parking and admission is FREE!
Fort Erie Friendship Festival 

The Fort Erie Friendship Festival continues and maintains its mission statement:
"To promote an international Friendship Festival celebrating the good relations between Canada and the United States of America since the end of the War of 1812.
To support and promote better relations between Canada and the USA.
To support and promote the economic development of the Region of Niagara South in general, and the Town of Fort Erie in particular.
To support and promote tourism and cultural activities".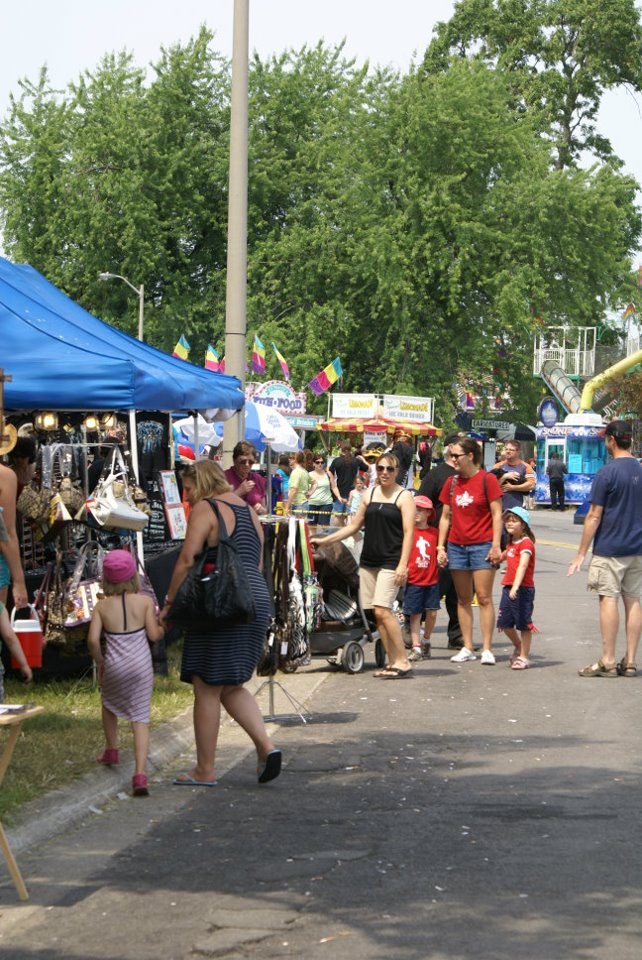 This is a Summer Festival that has it all. A Midway, food and marketplace vendors, entertainment, a live concert series, a talent show, a Family Interactive Area and Kids Zone, fireworks, and much more! It runs on Canada Day weekend from Friday, June 26th, 2015 to Sunday, June 28th, 2015.
As always, talent abounds on Saturday, June 27th as the Fort Erie Friendship Festival's main concert stage has a free entertainment competition featuring very talented singers, jugglers, dancers, musicians, and more with the "Festival's Got Talent" portion of the festival.
The Fort Erie Friendship Festival is located at Mather Arch in Fort Erie. From the QEW heading towards the Peace Bridge, take the last exit "Central Avenue" and turn right. From Buffalo, go across the Peace Bridge and take "Central Avenue" exit (right under the Central Avenue overpass).
For more information on the Fort Erie Friendship Festival please call Toll Free: 888-333-1987 or visit them online at www.friendshipfestival.com
Canal Days Marine Heritage Festival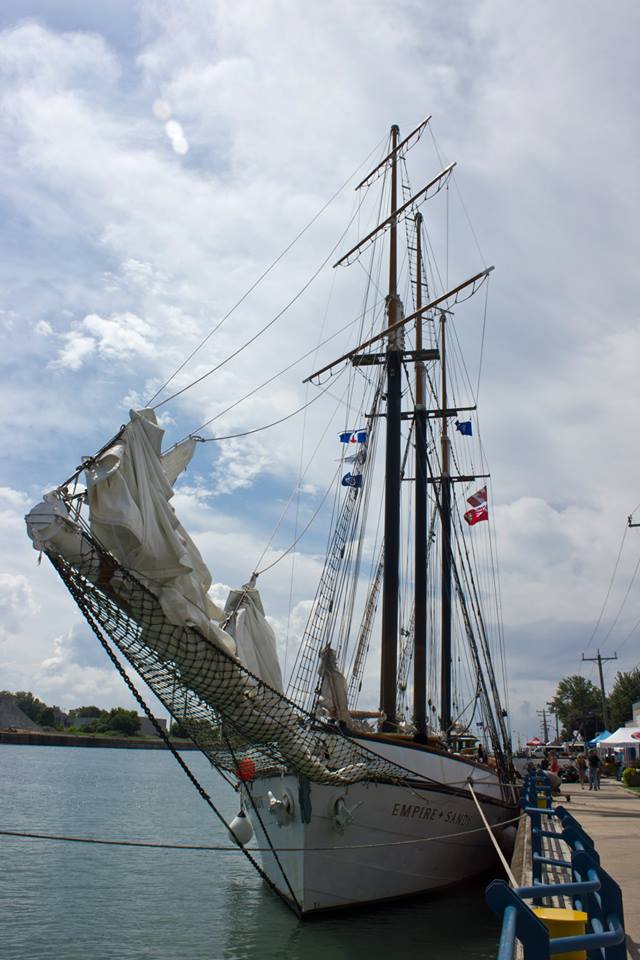 It is known as "Niagara's Premier Summer Festival." Each year more than 300,000 people visit the festival over four days and it has grown by leaps and bounds over the four decades that this festival has been around. Tall ships gather in Port Colborne each Civic holiday weekend, and the festival includes everything for everyone to enjoy. Car shows, a children's area, food and shopping vendors, live entertainment, always an amazing concert series, plus so much more yet to be announced!
The Canal Days Marine Heritage Festival encompasses the entire community, with activities at a dozen different venues: HH Knoll Lakeview Park hosts Ontario's Largest outdoor Classic Car and International kite show. The Seaway Park children's area has games, entertainment and kid's activities throughout the weekend. The Port ColborneMarine Museum has the history of the Canal on display, and heritage artisans can be seen working their trade. Saturday offers a day of live jazz at the Roselawn Centre. Festival guests can ride the free Canal Days shuttle to the Vale Centre where the indoor Craft Show is held. Festival food and shopping kiosks fill historic West Street, and the Market Square concert venue features top-notch entertainment nightly.
Canal Days runs from July 31st – August 3rd, 2015.
For more information on Canal Days please visit www.canaldays.ca
To receive similar content, "Like" us on Facebook @ https://www.facebook.com/niagarabuzz.ca
Let us know what you think!