Looking for some fun things to do in Niagara Falls this weekend? From Peach Festivals to Fireworks…there is something for the whole family to enjoy locally!! Here is a list:
Saturday August 8, 2015
Niagara-on-the-Lake Peach Festival 
On Saturday, August 8th from 10:00 am to 5:00 pm is the 24th Annual Peach Festival happening on Queen Street from Victoria Street to King Street in Niagara-on-the-Lake.
Fresh peaches from local growers will be on display here. Think fresh peaches, peach pies, ice cream, jam and many other peach related treats! The shops on Queen Street will be showing their merchandise on the street, surrounded by live entertainment and music from: The Toronto All Star Band, David Hoy, St.Catharines Pipe Band, The Local Fife and Drum and Ceol Cara.
Also attending this year is Ben Show, a fantastic street performer for all ages.
For more information call 905 468 1950 or click: Peach Festival
Friday, August 7th, 2015 – Sunday, August 9th, 2015
Niagara Pet Expo
Saturday, August 8th (from 11 am to 7 pm) and Sunday, August 9th (from 11 am to 4 pm) features a brand-new two-day pet-friendly festival that will include presentations by the Ultimate Air Dogs of Canada and demonstrations by Ruff Justice K9 Security Services.
This event features demonstrations, pony rides, artisans, retail, and food/beverage vendors all weekend long.
An outdoor concert featuring local country talent, Chelsea Crites, happens on Saturday evening from 7 pm to 11 pm.
Leashed pets are welcome.
Admission is $5.00 for ages 13+. 12 and under is FREE!
Location: Inside and on the grounds of the Royal Canadian Legion Branch 230, South Mill Street, Ridgeway.
For more information please visit www.ridgewayont.ca
August 8
5th Annual Heater's Heroes Event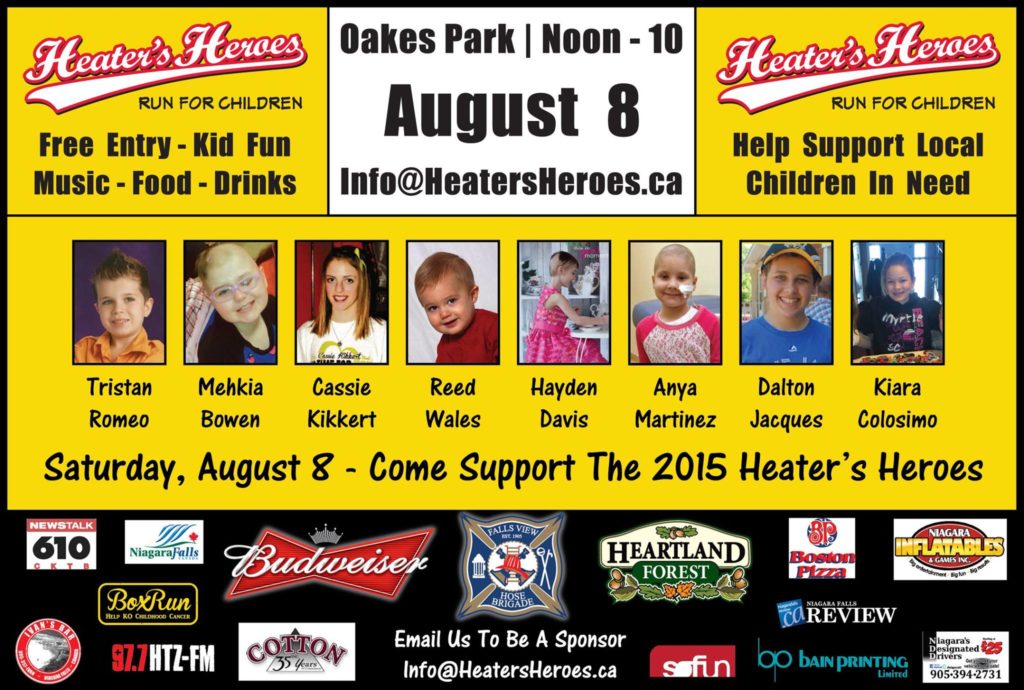 Heater's Heroes is an annual charity event in honour of the late Robert "Heater" Lavelle, who throughout his life was dedicated to helping local children in need. Mike Strange was a great friend of Heater's and considered him a mentor, so to continue Heaters legacy Mike founded Heater's Heroes in 2011. Heater's Heroes mandate is to help local children in need today, with the help, support, and generosity of the local community and businesses. Come on out and show these great kids your support!
The event runs from 12:00 pm to 10:00 pm
Go to www.heatersheroes.ca for more information. FREE for the whole family (donations greatly appreciated).
30th Annual Siege at Old Fort Erie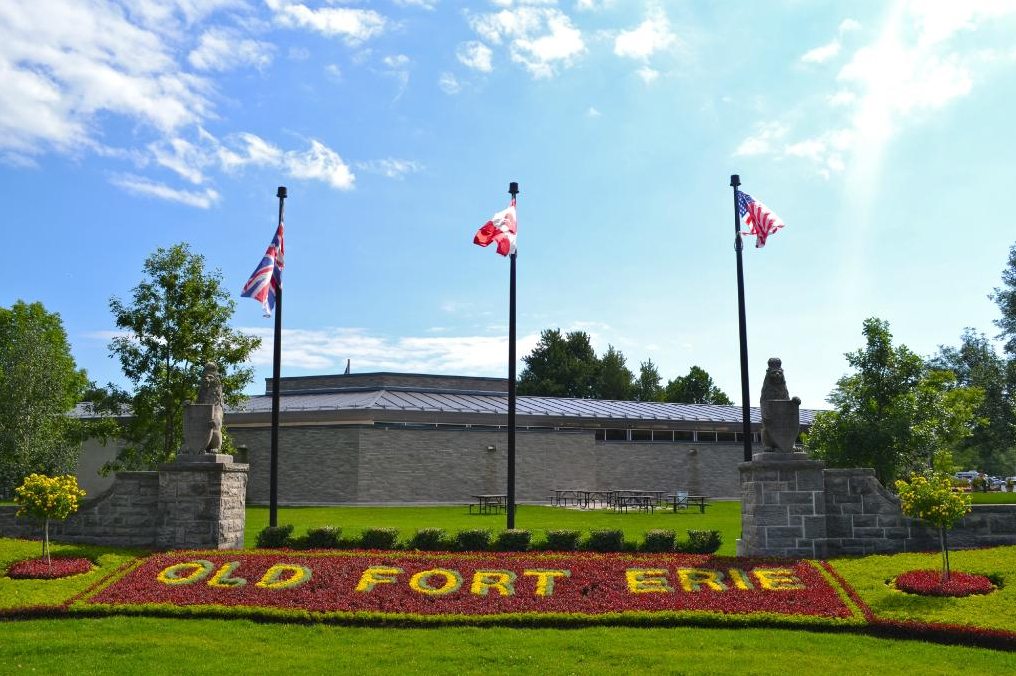 Saturday and Sunday (August 8th & 9th), celebrates Siege weekend at Old Fort Erie (350 Lakeshore Rd., Fort Erie).
Schedule of Events:
Saturday, August 8th
10 am: Fort opens to the public
11 am: Skirmish: "Buck's Surrender"
12 pm: Uniforms of the War of 1812
1 pm: British Artillery Display
2 pm: Tactical Battle! "Chippawa and Lundy's Lane"
3 pm: Mini Militia on the Terre-Plein
4 pm: U.S. Artillery Display
5 pm: Fort closed to the public
8 pm: Battle! "Drummond's Night Assault on the Fort"
9 pm: Lantern tours through the fort under attack
Sunday, August 9th
10 am: Fort opens to the public
10:30 am: .Memorial service on the South Field
1 pm: Tactical Battle! "The U.S. Sortie"
2 pm: Mini Militia on the Terre Plein
2:30 pm: Artillery Barrage in the Siege Lines
5 pm: Fort closed to the public
Summer of Thrills 
For only the 2nd year running, we welcome back the Niagara Summer of Thrills shows! All of these acts will be located at the top of Clifton Hill on Victoria Avenue.
Running Until September 7th, 2015 (with the exception of Tuesday's and Wednesday's)
Experience more events than the year previous with ample Variety Acts and 4 Thrill Shows Daily!
Variety Acts
1:30, 2:15, 3:30, 4:15, 5:30, 6:15, 7:30 (except Tuesday's and Wednesday's)
Thrill Acts
Sky Scraping Sway Pole Act: Duo
4:00 pm (Except Tuesday's and Wednesday's)
Acrobatic Motorcycle High Wire: Duo
8:00 pm (except Tuesday's and Wednesday's)
2:00 pm and 6:00 pm (except Tuesday's and Wednesday's)
For more thorough information on the Niagara Summer of Thrills stunt shows click here.
Queenston Bandshell – Sunday Concert Series
The Niagara Parks is proud to present the start-up of their free concert series every Sunday from June 14th to September 6th, 2015 from 2:00 pm – 4:00 pm.
Watch live performances of Dixie, Jazz, and Blues at Queenston Heights Park here.
Location: 14184 Queenston Street, Queenston, ON.
Hornblower Niagara Cruises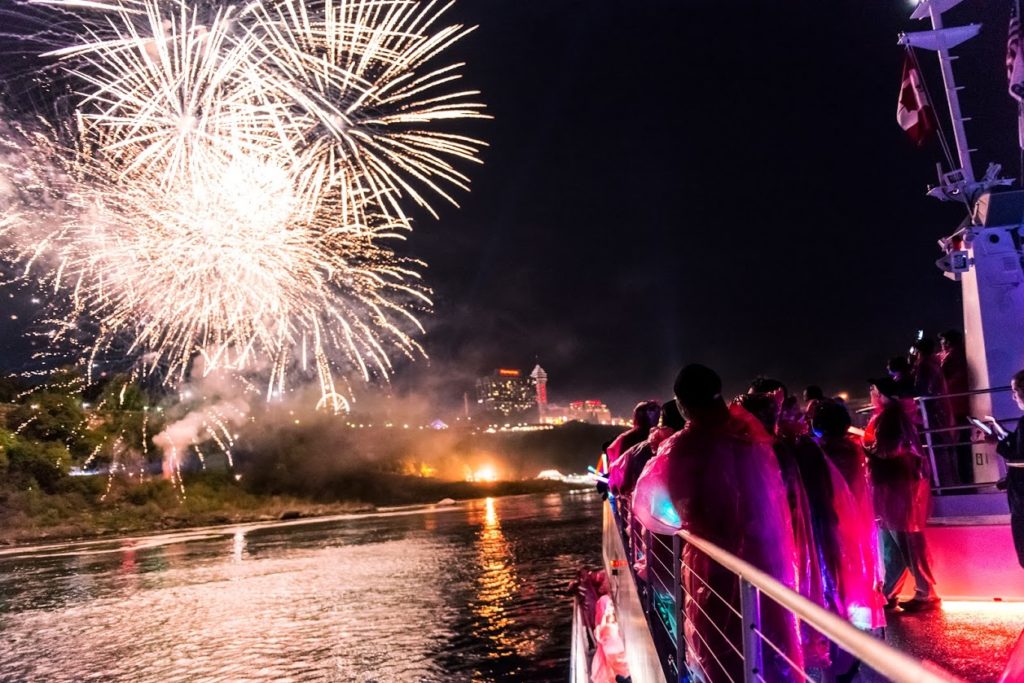 Hornblower Niagara Cruises is an intimate tour that gets you as close as possible to the breathtaking flow of water, power and mist that is the magnificent Niagara Falls. Within the Niagara Great Gorge you will journey past the American Falls, Bridal Veil Falls and into the very heart of the famous Horseshoe Falls.
Until September 7th, Hornblower Niagara Cruises offers daily Falls Illumination Cruises. This is in addition to the Voyage to the Falls daytime tours.
Hornblower Niagara Cruises is located on the Niagara Parkway at the north end of Queen Victoria Park, close to the Rainbow Bridge and Oakes Garden Theatre at the foot of the Clifton Hill tourist area.
Visit www.niagaracruises.com for more information
Ghost Walks in Niagara-on-the-Lake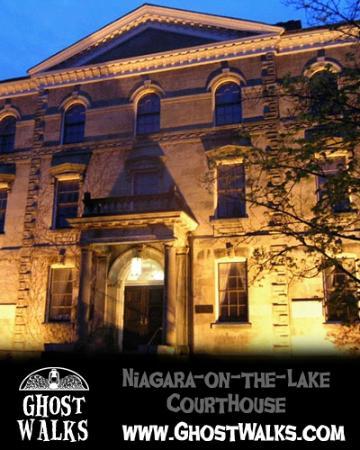 Every evening in August from 8:30 pm – 10:00 pm you can experience ghost walks in Canada's Most Haunted Town! This tour begins at "the Haunted Shop" at 126 Queen Street in Niagara-on-the-Lake and features the old town and the many stories of ghosts and dark history.
Detailing the rich stories fitting of such a historically dark place, including the ghost of an angry soldier at The Angel, the violent legend on the shores of Lake Ontario, and a house that makes cameras go crazy.
Also includes stops outside the Niagara-on-the-Lake Courthouse, Prince of Wales Hotel, Apothecary, Royal George Theatre.
Stories of séances, town secrets, legends in the birth place of our nation and the violent heart of the only war fought on Canadian soil.
Prices: 
Adults: $13.00
Children (13 and Under): $5.00
Seniors (60 and over): $10.00
For more information and for tickets sales, visit www.ghostwalks.com
Niagara Falls Fireworks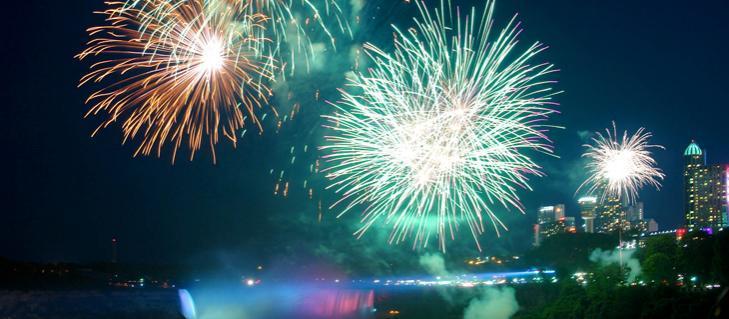 From May 15th until September 7th, 2015, every Friday, Sunday and Holidays at 10 p.m., enjoy a spectacular Niagara Falls fireworks display in Queen Victoria Park. Come early on fireworks evenings to enjoy free Coca Cola concerts at 8 p.m.
"Fear the Worst" play on Sunday, August 9th.
To receive similar content"Like" us on Facebook @ https://www.facebook.com/niagarabuzz.ca
Let us know what you think!