Well here we are, at what most people under the age of 18 would call the end of Summer (we really do have over a month of awesome Summer weather ahead of us).
Getting the kids ready for school and preparing for a busy Fall? Why not have one last blast before its time to hit the books and pack lunches?
There are plenty of things to do in Niagara this coming Labour Day Weekend. Here is but a taste…
27th Annual Marshville Heritage Festival (main picture above)
Labour Day Weekend
September 5 – 7, 2015 10am -5pm daily
Location: Wainfleet Village (see website for directions)
Cost: $6.00 for Adult Seniors Day SAT ONLY 65+ $5.00 Children under 10 FREE
What's Happening?
Family oriented event
Everyone in period costumes
400 friendly volunteers to help
On-going, hands-on demonstrations
15 restored buildings with displays & activities
Yummy food
Over 100 juried crafters
Horse & wagon rides
Entertainment all weekend (kids of all ages)
Authentic Amish quilt being raffled
Canoe building & raffle
Pig on spit
Old tyme worship service on Sunday am
Apple butter Soup on open fire
Working sawmill Operating blacksmith shop
Car show
LOTS MORE! FREE parking…FREE People Mover into site Handicap Parking in the arena parking lot
For more information go to www.marshvilleheritagefestival.com
Coca-Cola sponsored Concerts
Friday, September 4th. First, party on the Parkway with the exciting Coca-Cola sponsored concerts at the Illumination station, followed by treating the family to witnessing the Falls Fireworks at 10 pm.
From Friday, August 28th until Sunday, Sept 13th, all bands play in Queen Victoria Park from 7:15 pm to 10:00 pm as part of the Onguiaahra:Thunder of Waters Sound & Light Show.
Located just across from the American Falls, a large pond fountain will be set up that will astonish the viewer with a magnificent series of lights and images that will dance with a musical symphony of sounds reflecting off of the spraying water in an ever-changing rainbow of colours.
There will be THREE shows nightly at these times: *8:15 pm *9:15 pm *10:15 pm.  Here's a peak:
Even though Summer is coming to an end, Niagara Falls just started its best stretch of weather all season and Clifton Hill still has some GREAT entertainment!  Check out below:

Clifton Hill's World Famous Street of Fun by the Falls! – offers the Niagara SkyWheel: Canada's largest giant wheel, Queen Victoria Park, Casino Niagara, the Hornblower Niagara Cruises, plus over 100 restaurants, stores and entertainment venues.
A few blocks away, Greg Frewin has his award-winning "Imagine" Magic Show at 7:30pm Friday through Sunday. You'll have plenty of time beforehand for dinner at Kelsey's or Boston Pizza.
Here is some of the Greg Frewin Theatre experience:

FIREWORKS SCHEDULE
From May 15th until September 7th, 2015, every Friday, Sunday and Holidays at 10 p.m., enjoy a spectacular fireworks display in Queen Victoria Park. Come early on fireworks evenings to enjoy free Coca Cola concerts at 8 p.m.
Holiday Fireworks:
Victoria Day May 18
Canada Day July 1
Independence Day July 4
Civic Holiday Aug 3
Labour Day Sept 7
Note: All dates and times are approximate and subject to change.
Fireworks displays are weather permitting.
Niagara Summer of Thrills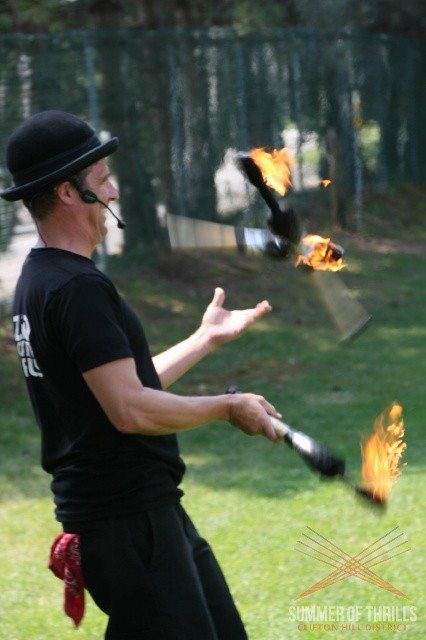 There have always been daredevils and stuntmen drawing crowds to the Niagara Falls such as Nik Wallenda, and the late Jay Cochrane, who would walk a wire between the Hilton Hotel and the Skylon Tower, but those events while bringing in the masses, never lapsed over an entire Summer like the 2nd year of the Niagara Summer of Thrills will do!
From July 2nd until September 7th, 2015, the whole family is welcome to attend these FREE shows daily (excluding Tuesday's and Wednesday's) throughout the Summer. Click HERE for details
Kevin James
Well known for his portrayal of working class deliveryman Doug Heffernan on the hit TV show The King of Queens, Kevin's been cracking up audiences with his crowd pleasing stand-up act for decades. Ranked on Comedy Central's list of the 100 Greatest Stand-Up Comedians long before he was starring as Paul Blart: Mall Cop, Kevin's a genuine comedic genius with a style all his own. Now's your chance to see the world-famous comedian for yourself!
For ticket sales go to www.senecaniagaracasino.com
To receive similar content, "Like" us on Facebook @ https://www.facebook.com/niagarabuzz.ca
Let us know what you think!