*Pictured Above: "The Comet" roller coaster. A popular favourite at the Crystal Beach Theme Park*
Today we have plenty of new and exciting Niagara attractions to occupy you, but if you were born prior to 1980, your memories may lie with a few lost favourites. Here are three Niagara theme parks that we miss. So nostalgic!
 Crystal Beach Theme Park (1888-1989)
Crystal Beach (located in Fort Erie) actually began as a religious campground in 1888 which drew in so many people due to its beautiful location, plus close proximity to the border at Buffalo, New York. It drew in thousands of customers daily from both the Canadian and American sides.
Eventually, a few people began to seize the opportunity to grow Crystal Beach to something more after witnessing the crowds flock between sermons with side-show performances. Investors got together and formed the "Crystal beach Company" in 1890. This is when it all came together once the investors began to build amusement rides and a ferry service for the enthusiastic tourists from across the border.
In 1989, the park was eventually sold to make way for a gated community, and the rides were sold off to various amusement parks throughout both Canada and the US. Probably the most popular of all the rides, "the Comet" roller coaster was sold for $210,000. It now resides at the Great Escape, Six Flags Theme Park in Queensbury, New York.
Unique to Crystal Beach were the Sugar Waffles and the suckers. You received a sucker upon exiting the park.
 Prudhomme's Landing Water Park (?-2002)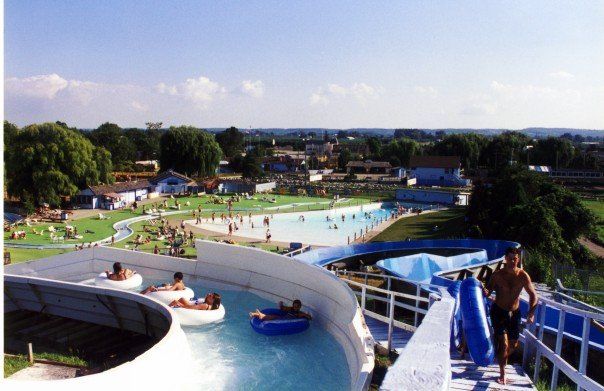 Prudhomme's Landing was a water park situated in Jordan, Ontario. Jordan is so small, but holds a lot of history there. Both Prudhomme's Landing and the "Pirate Ship" still situated next to the QEW called "La Grande Hermine", are the two landmarks that most people affiliate with Jordan, Ontario.
Prudhomme's Landing also became known as "Wet N'Wild", and originally started off with only two water slides. In time, the water park added a wave pool, a tube slide, a lazy river, plus additional rides such as bumper cars, a Tilt-A-Whirl, go-karts, a haunted house, and even a "Miniature World" attraction that later reopened here in Niagara Falls near Clifton Hill, on Victoria Av. (no longer in existence).
Robert Gibb used to live in an old mansion on the grounds that he opened as a haunted house that eventually burned down. It became so famous for its "chicken doors", that it inspired "Nightmares" (which Robert later opened) at Maple Leaf Village. Now of course we have Nightmares Fear Factory that uses all the same elements to provide all the adrenaline and scares needed.
Prudhomme's closed in 2002 (the opening date has yet to be verified), and is currently making way for new condominium townhouses, although some of the attractions still remain (the blue and pink water slide are still visible from the QEW)– albeit haggard, faded, and grown over. Reasons for closing speculate bankruptcy.
Maple Leaf Village (1979-1992)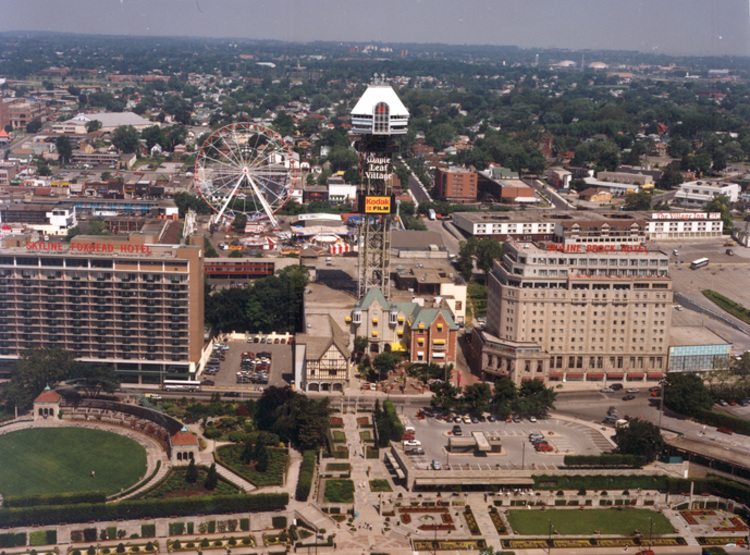 *Pictured Above: Aerial view of Maple Leaf Village circa 1980′s. Photo cred: Niagara Falls Library*
Of course, which one of us that frequented Clifton Hill, Niagara Falls, back in the day can forget Maple Leaf Village?
Maple Leaf Village opened in 1979 on Clifton Hill (currently on the property where Casino Niagara now stands). It started off with many attractions such as an old-time photo shop, the Elvis Presley Museum, souvenir stores, a large play area for kids, many rides, a haunted house (by Robert Gibbs — see above), magicians, mini golf, an arcade, funhouse, and the Lilly Langtrees Theatre.
The amusement park, also featured one of the largest ferris wheels in Canada at the time (now of course we have the Niagara SkyWheel to take its place), named simply "the Giant Wheel".
Other popular later rides over the years included: "the Scrambler", "the Dixie Dangler", "Sea Dragon" Pirate Ship, "Tea Cups", "Tilt-A-Whirl", "Spider", and the 36-Horse Carousel.
Maple Leaf Village closed by Labour Day in 1992 due in part to competition between Canada's Wonderland and Marineland. The rides were auctioned off individually throughout the world. "The Giant Wheel" sold for $560,000.
To receive similar content, "Like" us on Facebook @ https://www.facebook.com/niagarabuzz.ca
Let us know what you think!