In 1782, Philip George Bender and his family became the first settlers in Niagara Falls. He joined the Butler's Rangers and provided five years of loyal service. As a reward, he was granted 300 acres of land situated in Niagara Falls. His property stretched from Robinson Street (south) to Seneca Street (north), and from the Niagara River (east) to Stanley Avenue (west). On a six acre section of that property, he built a sturdy stone residence after the War of 1812 — this is where our present-day Casino Niagara now stands.
This property was owned by Philip Bender until January, 1880, when it was sold to John Humphrey Noyes, the founding father of the Oneida Company in New York State. He had established a silver-ware factory in Oneida, NY, in 1879, and he commuted to his factory daily while living in the Bender home. In 1916 his son, Pierrepont B. Noyes, opened the Canadian Oneida Company Plate Silverware factory on the property.
In 1925 it was torn down and was replaced by the Company Plate Canadian Factory.
On June 15th, 1964, the Oneida Tower was opened. This was a steel observation tower built of an open steel frame (the first in Canada), which stood 355 feet. The Oneida Tower had a two storey observation deck and two glass enclosed elevators. The top observation deck was partially open specifically so that tourists could get completely unobstructed views of the Niagara Falls.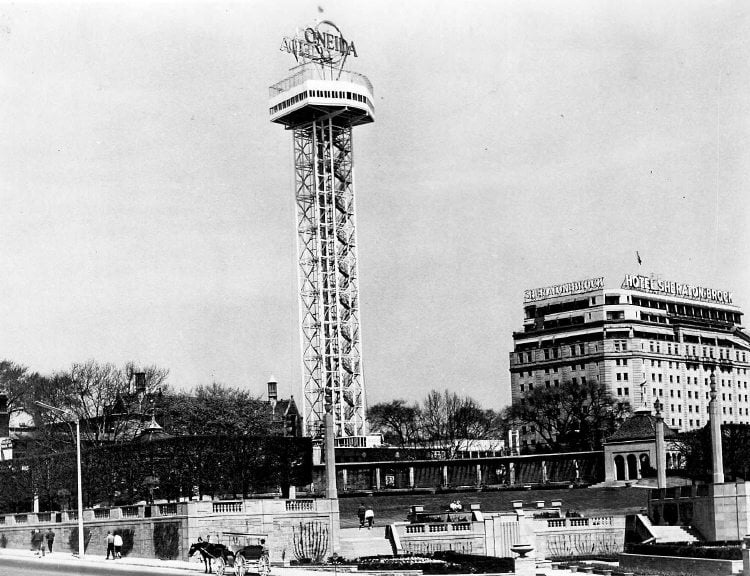 Pictured Above: Oneida Tower, Oakes Garden Theatre and the Sheraton Brock Hotel (photo cred: Niagara Falls Public Library)
In 1974, the Oneida Tower became known as the Niagara Tower and Plaza Limited. Then in 1985 this tower would become the center piece of the Maple Leaf Village Shopping Complex, now becoming known as the Kodak Tower. 
Maple Leaf Village 
Pictured Above: Maple Leaf Village which stood on the current Casino Niagara property (photo cred: Niagara Falls Public Library)
In early 1977, plans were developed for the construction of Maple Leaf Village and Park and in June 1979 it was opened to the public. The amusement park cost $22 million dollars, and featured many attractions, such as carousels, bumper cars, Dixie Dangler swings, an Elvis Presley Museum, and numerous different rides and souvenir stores. It held the largest Ferris Wheel in Canada at that time. This title has since been replaced by the new Niagara SkyWheel located just across the street (which opened in 2006).
1989 Maple Leaf Village Commercial:
Once the Oneida Factory was demolished, many of the buildings in the Village were made of some of the stone salvaged from the plant.
Eventually, in the late 1980's the park began to face financial woes despite its popularity. York Hanover Hotels, who took over park management in the late 1980s, went bankrupt and finally auctioned off the park and its rides throughout 1992. The stores remained open a little longer, but they too were eventually sold.
In November, 1995, the government of Ontario announced plans to open a casino in Niagara Falls, and the former location of Maple Leaf Village was identified as the site in April, 1996.
Casino Niagara opened on December 9th, 1996, and still attracts millions of visitors.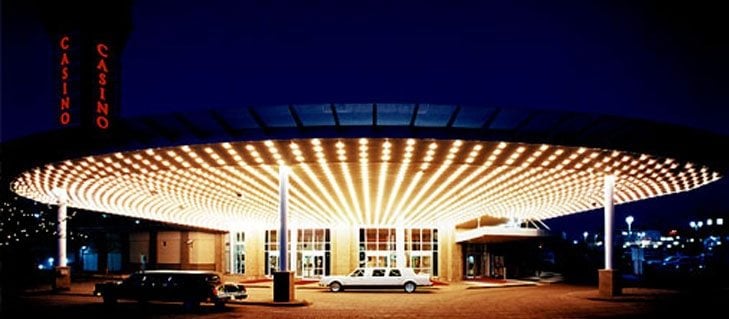 Casino Niagara may be the oldest casino, but it's not the only casino. The Fallsview Casino is Niagara Falls' newest gaming facility. Opened in 2004, it features 3000 slot machines and 150 table games spread out among 180,000 square feet. The 500 progressive jackpot machines have paid out some of the largest prizes in Canadian history. It also regularly houses concerts from some big name international artists.
To receive similar content, "Like" us on Facebook @ https://www.facebook.com/niagarabuzz.ca
Let us know what you think!