The skies are blue and there's lots to do and see in the region this weekend.  Taking a look at a few options!
Friday, October 14th, 2016 – Sunday, October 16th, 2016
Niagara Falls Oktoberfest
Niagara Falls Oktoberfest at the Scotiabank Convention Centre
October 14-15th, 2016: Friday Hours: 4:00 pm – 11:00 pm. Saturday Hours: 12:00 pm – 11:00 pm
Munich is home to the world's largest Oktoberfest, but the fall harvest celebration has become one of Germany's most popular exports. Now it is celebrated around the world — including Niagara Falls.
The Niagara Region is already world-famous for its vineyards and wineries, but the first-ever Niagara Falls Oktoberfest will prove the German tradition is alive and kicking in Niagara as well.
Raise a glass to this new Niagara tradition, with this two-day festival held at the Scotiabank Convention Centre on Friday, October 14th and Saturday, October 15th.
Beers and wines from more than 20 premium imported and domestic breweries and wineries will be on tap.
The German fare includes pork schnitzel, chicken schnitzel, and beer-braised Oktoberfest sausage. Pile on the sauerkraut, German potato salad and braised red cabbage to top off a classic festival meal.
The event will feature live entertainment including Mr. Oktoberfest himself, George Kash and his band "The George Kash Experience", as well as Oktoberfest favourite "Happy Wanderers" that will have you raisinf a stein and belting out "Ein Prosit", the timeless German beer-drinking tune, popular at every Oktoberfest celebration around the world.
A one-day pass of $20 gets you admission to the event, an official 17-ounce Niagara Falls Oktoberfest beer stein and four beer tickets! A weekend pass of $45 includes two days admission, a 34-ounce stein, six tickets, and an official festival lanyard.
Drummond Hill Cemetery Tours
Let a costumed guide tell the story of drama and intrigue as you wander the grounds and happen upon theatrical performances that provide a glimpse of the lives of some of the people from the history of the city that are buried within the Drummond Hill Cemetery.
Dates are Friday & Saturday (Oct 14th and 15th), and Friday (Oct 21st), 2016 and lasts for approximately 1 hour.
Tickets can be purchased at the Niagara Falls History Museum or by calling  905-358-5082. Ages 12+.
Prices are $12 and must be purchased in advance.
The Drummond Hill Cemetery is located at 6110 Lundy's Lane in Niagara Falls. It is a nationally recognized heritage site most famously known as the battle grounds of the "Battle of Lundy's Lane", as well as the burial site of Laura Secord.
Le Grand Cirque at the Fallsview Casino
Dates and Times:
Oct 13 – 8:30PM Oct 14 – 9:00PM Oct 15 – 3:00PM Oct 15 – 9:00PM Oct 16 – 3:00PM Oct 16 – 7:00PM Oct 17 – 3:00PM Oct 18 – 3:00PM Oct 18 – 8:30PM Oct 20 – 3:00PM Oct 20 – 8:30PM Oct 21 – 9:00PM Oct 22 – 3:00PM Oct 22 – 9:00PM Oct 23 – 3:00PM Oct 23 – 7:00PM Oct 24 – 3:00PM Oct 25 – 3:00PM Oct 25 – 8:30PM Oct 27 – 3:00PM Oct 27 – 8:30PM Oct 28 – 9:00PM Oct 29 – 3:00PM Oct 29 – 9:00PM Oct 30 – 3:00PM Oct 30 – 7:00PM
Prices: Tickets start at $20
Discover the magic and imagination in a spell binding performance of impossible feats of strength and agility with Le Grand Cirque – Adrenaline. Over 40 international daredevil stuntmen, trapeze artists and contemporary dancers soar though audiences and leap on stage, live at the Fallsview Casino Resort.
Buy your tickets at Fallsview Casino Resort's Box Office (open Noon on show days), at all Ticketmaster locations, by calling Ticketmaster at 1-877-833-3110 or online atwww.ticketmaster.ca
Niagara Falls Fireworks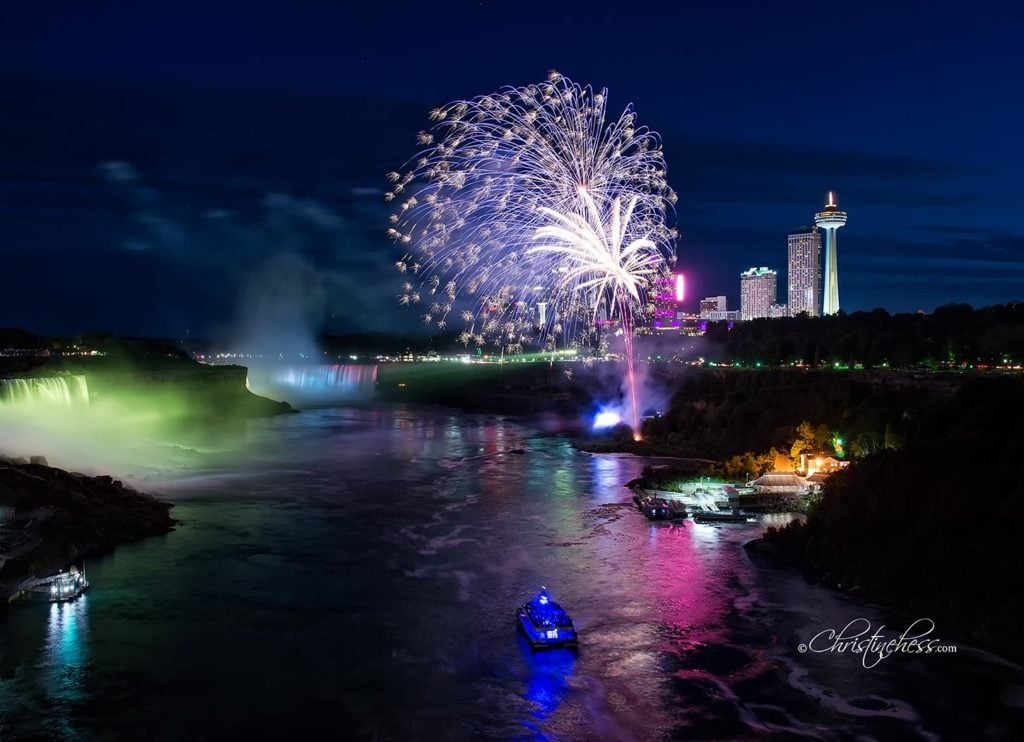 From May 1st until October 30th, 2016, every Wednesday, Friday, Sunday and Holidays at 10 p.m., enjoy a spectacular Niagara Falls fireworks displays in Queen Victoria Park.
**Please Note: The predicted wind directions this weekend may mean that the fireworks will have to be modified or cancelled this week. Easterly winds are not favourable for public safety, every effort will be taken to proceed with the shows if possible.
Hornblower Niagara Cruises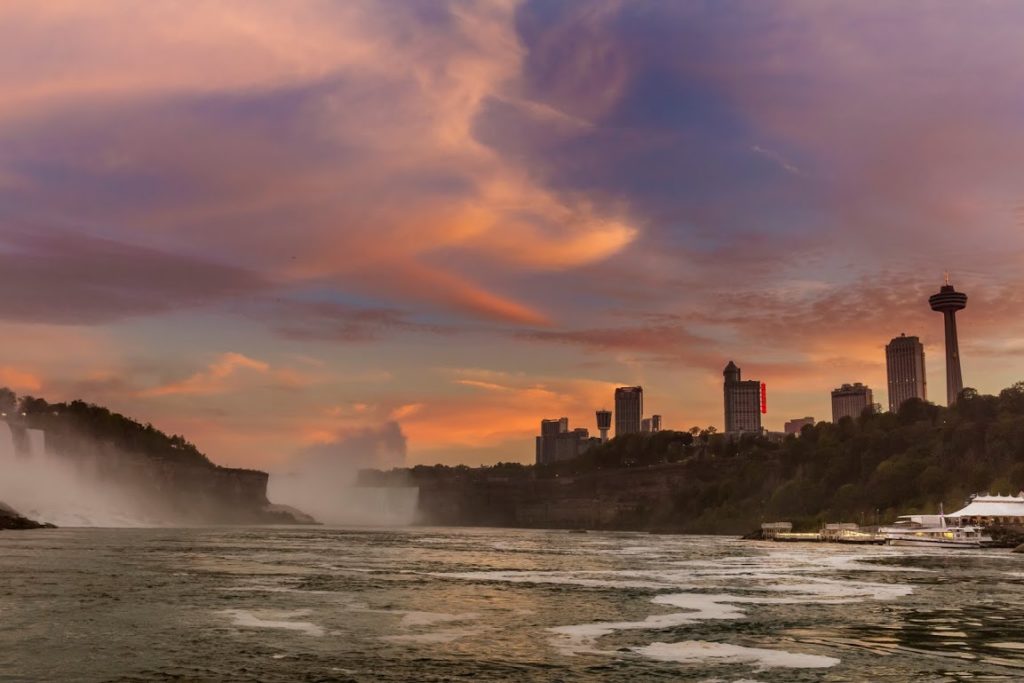 Join Hornblower Niagara Cruises this Fall season.
The Hornblower Niagara Falls Boat Tour is a whole new way to experience Niagara Falls, and is Canada's only Falls boat tour.
They'll take you on the ride of your life. This intimate tour will get you as close as possible to the breathtaking flow of water, power and mist that is the magnificent Niagara Falls. Within the Niagara Great Gorge you will journey past the American Falls, Bridal Veil Falls and into the very heart of the famous Horseshoe Falls.
The "Voyage to the Falls" Boat Tour is open daily from April 1 – November 30, 2016.
The "Falls Illumination Cruise" Boat Tour is operates September 6th to October 31st: Wednesday, Friday, Sunday & Holidays. Boats sail 8:15 pm – 8:55 pm, and on Saturday's from September 6th to October 31st: Boats sail 9:45 pm – 10:25 pm.
The "Falls Fireworks Cruise" Boat Tour operates May 1st – October 31st, 2016: Wednesday, Friday, Sunday, & Holidays. Boats sail 9:45 pm – 10:25 pm. Fireworks go off at 10:00 pm (*Weather Permitting)
Morningstar Mill
Today the mill will be grinding flour  (October 15th), 2016 beginning at 11 am. Morningstar Mill is a rural industrial heritage site owned by the City of St. Catharines and operated in partnership with the Friends of Morningstar Mill. It features a working grist mill built in 1872, a turbine shed, a saw mill, a blacksmith and carpentry shop and the home of the Morningstar family. The mill provides a rare glimpse back in time to when moving water was used to mechanically grind grain into flour.
LOCATION & ADMISSION
Morningstar Mill
2714 Decew Rd., St. Catharines ON, L2R 6R2
All Ages | Free
Walk a Mile in HER Shoes is an event that men participate in  gives men the opportunity to take a public stand on the issue of violence against women. The symbolic WALK is done in high heels by participants. Registration: 9:30am Walk: 11:30am Closing Ceremonies after.
Time: 9:00 AM – 1:00 PM
LOCATION & ADMISSION
Let us know what you think!