Niagara Regional Police say they have concluded "Operation Loud and Clear",  instigated after many community members complained about the many loud vehicles on the roads.
From April 1st, 2021 to September 30th, 2021, the Niagara Regional Police Service conducted over 175 traffic stops on loud vehicles. In total, 307 charges were laid, including the following:
82 – No Muffler
61 – Improper muffler
110 – Unnecessary Noise
54 – Other offences from loud vehicles
It should be noted that three drivers were found driving while under suspension and with no insurance, an additional driver was found to be driving while under suspension and two others without insurance. Six vehicles were removed from the roadway directly relating to loud vehicle traffic stops that were found to be unfit for the road.
Throughout the operation, many traffic complaints were investigated. Police enforced high complaint areas and loud vehicles that were found not in compliance with the Highway Traffic Act were stopped, inspected and charged accordingly.
Police had recognized some vehicles previously enforced throughout this operation to have been repaired and now in compliance. Police also noted modified vehicles related to being previously charged and continued to be driven, causing unnecessary noise and disrupting the community, resulting in additional charges being laid.
The Niagara Regional Police Service will continue to enforce the Highway Traffic Act of Ontario as it relates to motor vehicles with defects or that have been modified to become louder within the Regional Municipality of Niagara.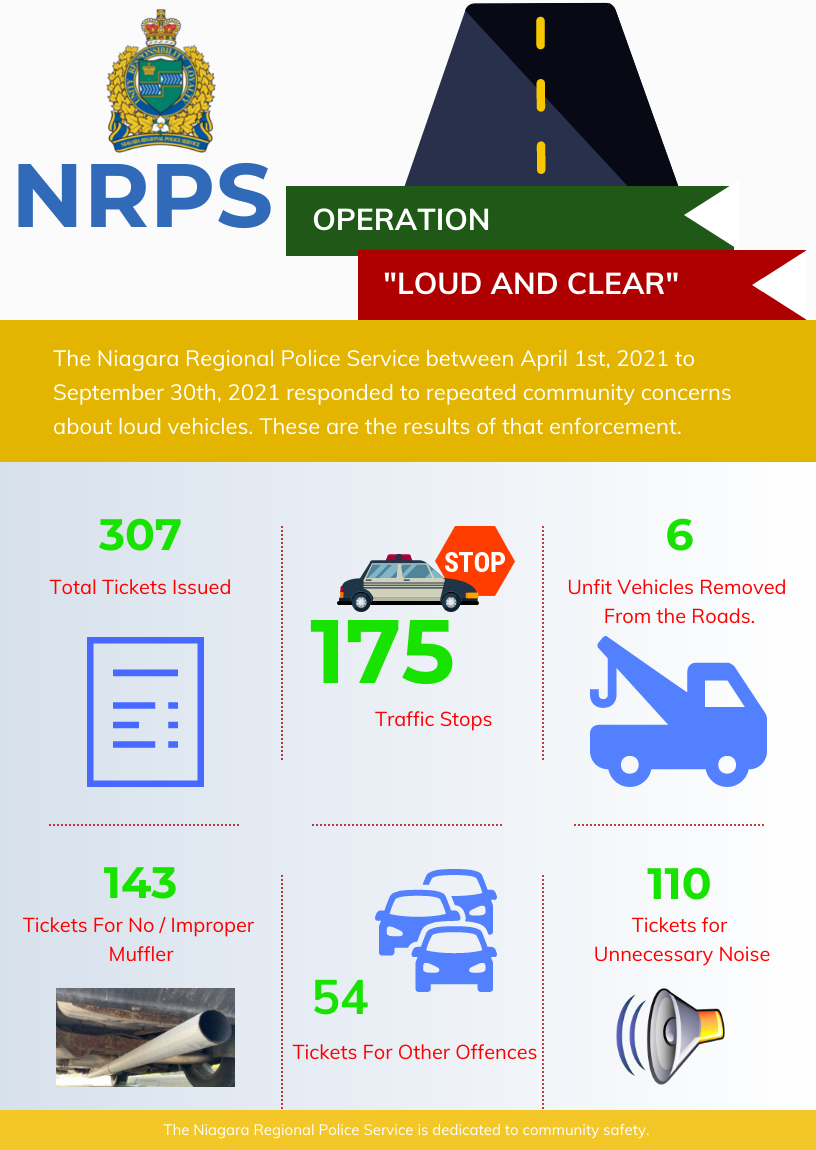 The Niagara Regional Police Service is dedicated to road safety and will work with the community to ensure vehicles are safe and legal. Keeping Niagara's roads safe and enjoyable for everyone remains a priority.
To receive similar content, "Like" us on Facebook @ https://www.facebook.com/niagarabuzz.ca
Let us know what you think!