It is time to get out the green beer again!!  Happy St. Patrick's Days everyone!  Here's a little info about the day and a few things to do around town to commemorate the occasion and have a little fun…
About St. Patrick's Day 
Every year on March 17, the Irish and the non-Irish alike, observe St. Patrick's Day. What began as a religious feast day for the patron saint of Ireland, has become an international festival celebrating Irish culture.
St Patrick's Day marks the anniversary of the death of a Christian missionary known as Patrick, who was born in the year 387. At the age of 16, he was captured and taken to Ireland as a slave. During this period, he became very religious and after six years he fled back to his family.
Later in his life, he returned to Ireland as a missionary. He is said to have played an important role in converting the inhabitants of Ireland to Christianity and in ridding the island of snakes. St Patrick is buried under Down Cathedral in Downpatrick, County Down, and is one of the three patron saints of Ireland. The other patron saints are St Brigid of Kildare and St Columba.
St Patrick's Day celebrations were brought to Canada by Irish immigrants. The day is a bank holiday in Northern Ireland and a public holiday in the Republic of Ireland. In the rest of the United Kingdom, the United States, Australia and New Zealand, it is celebrated, but is not an official holiday.
Here is a few things to do for St. Patrick's Day in Niagara 
 St. Patrick's Day Global Greening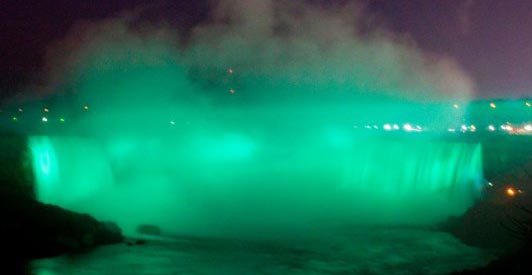 As part of the global greening movement, the Niagara Falls will be lit green at 10:00 pm on St. Patrick's Day in Niagara Falls.
Click here for all Niagara Falls illumination times.
St. Patrick's Day The Haunted Way
Feeling lucky? For those of us who chickened out, or for those of you who are looking for a 'good' day to test how brave you are, then nothing could be luckier than going through the scariest attraction in Niagara Falls on St. Patrick's day!
Nightmares Fear Factory is offering one complimentary photo per group! A savings of $8.00, how lucky is that? Visit our site to get the coupon.
Did you know that the 'Luck of the Irish' was an old mining expression?
During the second half of the 19th century, the gold and silver rush years in the US brought up some very successful, fortunate miners that found their 'pot of gold'. Most of the successful miners were actually of Irish and Irish American birth. With time, Americans came up with the term 'the luck of the Irish.'
On March 17th, may the 'Luck of the Irish' be with you and you're fortunate enought to make it through the scariest attraction in Niagara Falls.
St. Patrick's Day Party
Boston Pizza Clifton Hill (4950 Clifton Hill, Niagara Falls), will be hosting Niagara's BIGGEST St Patrick's Day Party this year!  It will include: Green Beer. Sink It Tournement. Pizza Eating Contest
Meridian Centre Free Skate
If you have yet to check out the new Meridian Centre located at 1 IceDogs Way in Downtown St.Catharines, now is your chance! St. Patrick's Day presents a free family skate from 11:00 am until 1:00 pm.
This is a FREE skate, but they would appreciate Toonie ($2) donations to Big Brothers/Big Sisters St. Catharines and Boys and Girls Club.
Event Level Concession Stand will be open.
www.meridiancentre.com 
Some Irish Pubs to Check out:
Doc Magilligan's Restaurant & Irish Pub, 6400 Lundy's Lane, Niagara Falls
Patrick Sheehan's Irish Pub, 101 St. Paul Street, St. Catharines
Celtic Pub, 14 Secord Drive, St. Catharines
The Irish Harp Pub, 245 King Street N-O-T-L………Happy St. Patricks Day to All!!
Let us know what you think!