Niagara Regional Police say they are investigating a robbery that occurred in West Lincoln yesterday.
Officers arrived on scene at the Avondale Store located at 112 Brock Street in West Lincoln (Smithville).  The initial investigation determined that at 11:00pm a lone female entered the store, claimed to have a gun, and demanded money from the cash register.  No gun was seen.  The employee complied.  The suspect ran from the store west bound through the parking lot with an undisclosed amount of money.
A NRPS K9 unit tracked the suspect westbound toward Griffin Street North, across the street and ended on McMurchie Lane. It is believed the suspect may have then entered a vehicle. The suspect was not located.
The suspect is described as:
White female
Approximately 5'6 feet tall with a heavier build.
The suspect was wearing:
A grey ¾ length coat
Black hoodie sweater with the hood up
Yellow scarf covering most of her face
Black pants
Black boots
Black glasses
The identity of the suspect is unknown.
Detectives from the 8 District office of the NRPS have been assigned to this investigation. Anyone with information about this incident is asked to contact the investigating officers by calling 905-0688-4111, option 3, extension 1009935.
Further investigation has determined that there was bystander car traffic in the parking lot before and after the robbery. Anyone (residents or businesses) in the area with closed circuit security cameras, doorbell video cameras, or dash cameras are asked to review their footage for suspicious activity for the period between 10:00pm and 11:15pm on July 26, 2023.
Members of the public who wish to provide information anonymously can contact Crime Stoppers of Niagara online or by calling 1-800-222-8477. Crime Stoppers offers cash rewards to persons who contact the program with information which leads to an arrest.
Click Here for Crime Stoppers Online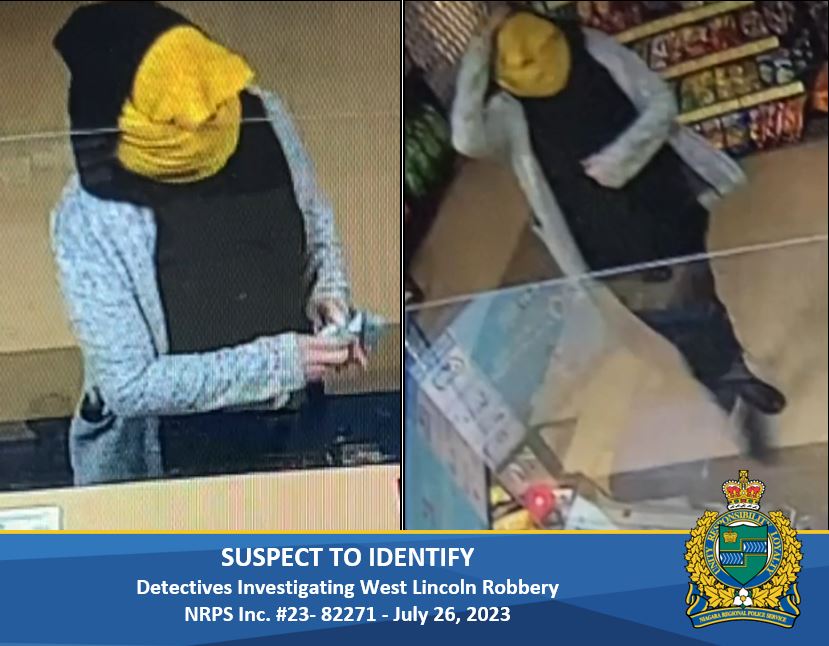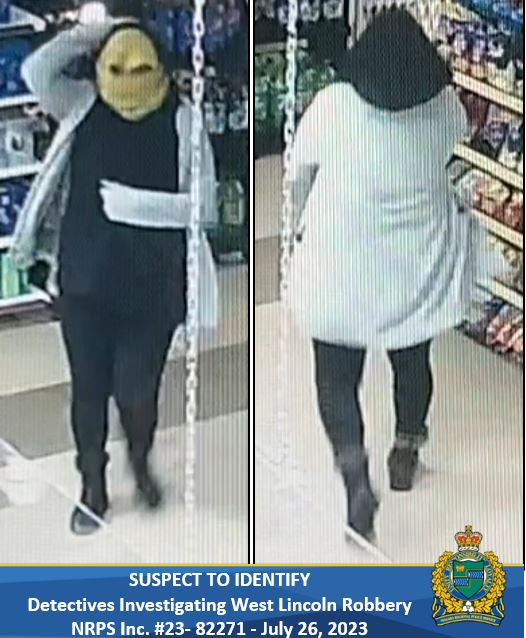 Let us know what you think!