Niagara Regional Police say they are looking for a suspect after an armed robbery at a pharmacy.
On August 1st, 2023, at 2:44pm officers responded to an armed robbery that just occurred at a pharmacy located on St. Catharines Street near South Street, in the Township of West Lincoln.
Upon arrival, officers spoke with a pharmacist who indicated a lone male suspect entered the pharmacy brandishing a handgun.  A demand for narcotics was made and the suspect fled the scene on foot with an undisclosed amount. 
The suspect was seen entering the passenger side of an awaiting black coloured 4-door sedan that was parked on South Street.  The vehicle was last scene travelling south on South Street and then west on Mill Street toward Canborough Street.  The pharmacist did not sustain any physical injuries.
Images have been obtained and detectives are appealing to members of the community for assistance identifying the suspect, described as follows:
– Male
– Black
– 20-30 years of age
– 5' 10" tall
– Slim to medium build
– Wearing a black hooded sweatshirt
– Wearing black knee length shorts
– Wearing black running shoes
– Wearing a blue surgical mask
Area residences and local businesses are encouraged to review their surveillance footage and contact the lead detective by dialing 905-688-4111, option 3, extension 1009528 with any relevant information
Members of the public who wish to provide information anonymously are encouraged to contact Crime Stoppers of Niagara online or by calling 1-800-222-TIPS (8477).  Crime Stoppers offers cash rewards to persons who contact the program with information that leads to an arrest.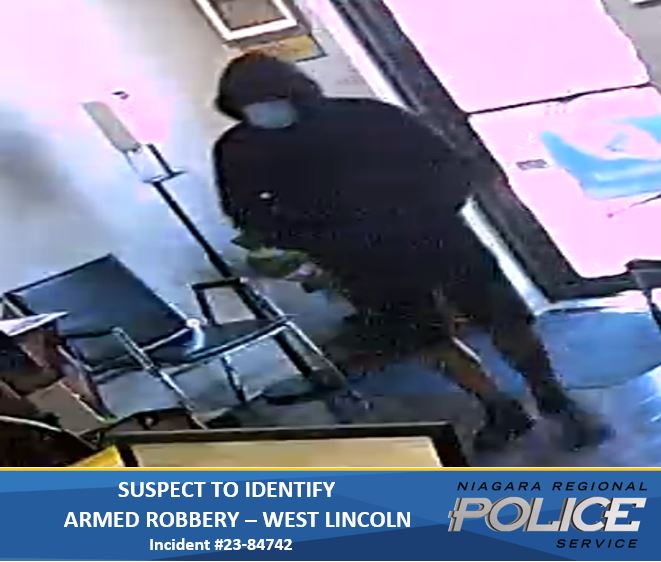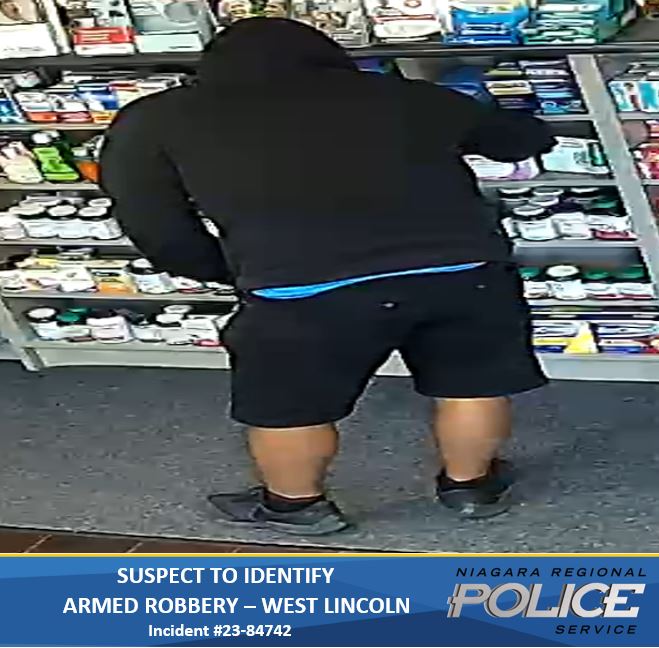 Let us know what you think!